Rufus gets a baby sister
Kelly and I somewhat impulsively decided to make a new addition to our family, a
Savannah cat
named Nikita. The rational behind choosing this particular flavor of kitty was that she will likely to grow up to be larger than your average domestic feline, and should be able to hold her own against the dogs in our household (we got her just before Lucky's death). After some initial attempts to treat her like a furry chew toy, the boys started acting like she was a (probationary) member of the family.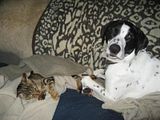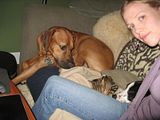 Since Lucky's passing, Rufus and Nikita have gotten more and more at ease with each other (it helps that Nikky grew up around a Boxer with whom she was best friends). Rufus has shown a great deal of curiousty about her (once he figured out that she was not a ferocious creature out to eat us in our sleep).
He followed her here...
He followed her there (where she took a swipe at him through the door jam)...
He followed her everywhere until she finally consented to be friends with the big red goof...
He even offered his back as a big (somewhat boney) red pillow
While Nikita is still now sure how to react when Rufus comes bounding towards her or drops a play bow in an invitation to romp, we are optimistic about their relationship...